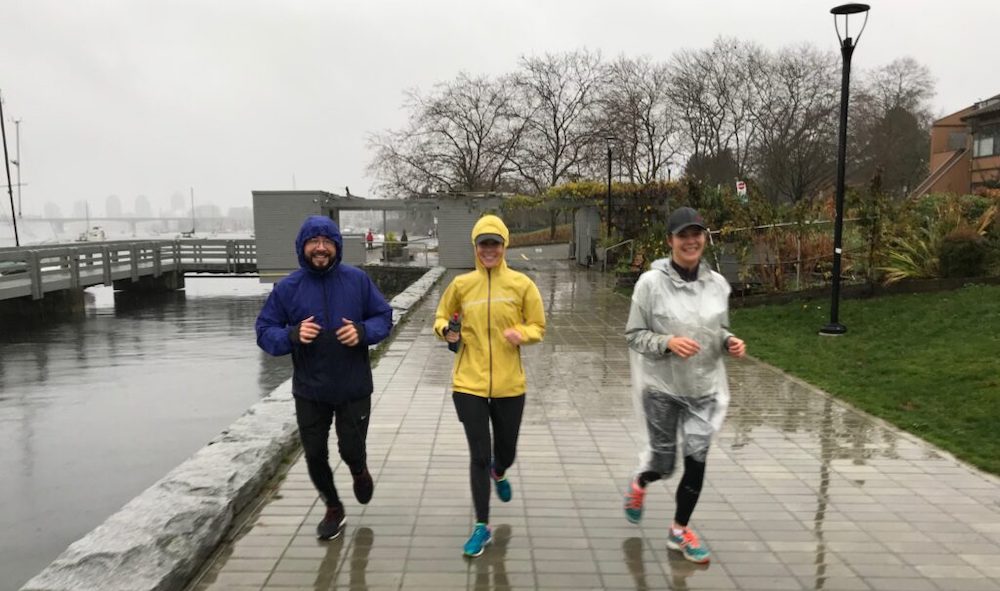 I've enjoyed running since the mid-nineties and learned many valuable lessons over these years. One of these lessons is running in cold weather and its risks. 
WHAT ARE THE RISKS?
The biggest risk is hypothermia which is when you've been exposed to cold weather and your body can't sustain its normal core body temperature. According to the medical studies, the average normal core body temperature is generally 37ºC. There are three stages of hypothermia:
Stage 1 (mild) – shivering because of reduced circulation. At this stage, the body's core temperature falls below normal by 2ºC.

Stage 2 (moderate) - weak pulse, labored breathing, reduced co-ordination, slurred speech, nausea, confusion and increased fatigue. At this stage, the body's core temperature drops between 28ºC to 32.2ºC.

Stage 3 (severe) - includes all or some of the above symptoms plus weak respiration, low pulse and disorientation. At this advance stage, the body's core temperature is less than 28ºC.
For more details on the symptoms and causes of hypothermia, please visit Mayo Clinic site.
It's critical to seek medical attention immediately if you're experiencing one of the above stages because the body is suffering from the effects of hypothermia.
REMEDIES
Remedies administered in the treatment of mild to moderate hypothermia include drinking a warm, sugared, non-alcoholic drink that is free of caffeine to warm up the body. If it's available, drink chicken noodle soup, it will warm the body and increase the lost minerals like sodium in the body.
MY EXPERIENCE
I would like to share an experience I had at one of my colder winter races. I thought I should add on a few extra layers because I get cold so easily. Unfortunately, that wasn't a wise decision because my body overheated and I sweated tremendously – more than usual. By the end of the race, my layers of clothing were soaked and I was chilled to the bone. I recognized the hypothermia symptoms and realized my body's core temperature was dropping quickly. We went back to the medical tent and they began warming me up and feeding me chicken noodle soup and electrolyte. My condition continued to worsen so I was taken to ER in an ambulance. I spent the rest of the day in ER, hooked up to an IV -- an experience I definitely don't want to repeat!!
That day I learned it's extremely important to layer properly! Technical clothing when worn correctly, helps regulate your body temperature and prevent the worst case scenario — hypothermia. My winter running gear includes a fitted merino wool base shirt, thermal mid-layer, a shell outer jacket and long winter tights.My accessories include, merino wool socks, a face/neck scarf, gloves and hat. If it's a wet cold day, I switch my jacket to a gortex running jacket which breathes but its waterproof. I also take into consideration to dress like it's 10 to 20 degrees warmer to prevent my body from overheating. If I feel too warm, I will tie the jacket about my waist.
RECOMMENDATIONS
I would recommend dressing in three technical layers – a base shirt that wicks the moisture from the body, a thermal mid-layer to retain body heat and a wind breaker. There are many different brands of technical clothing that you can experiment to find your personal preferences. I encourage you to test your layers and find your ideal combination so that you can enjoy your cold weather run in comfort and safety.
Another tip is to stay warm before your run. This means if you arrive early for the running group or at a race— instead of standing still, move around to keep the blood flowing and heart rate slightly elevated. For example, brisk walks, few jumping jacks but keep moving so your body stays warm without sweating. Your body should be warm before you start stretching. You could wear a garbage bag on top of your clothing to stay warm (cut holes for arms and head) and throw it away once you're ready to run.
Once you've completed your run and stretched, get out of your wet clothes as soon as possible to prevent chills. The body's core temperature drops quickly once you stop running so change into your dry clothes. If you can't change into dry clothes right away, go into a heated environment and drink something hot to warm you up. Most technical clothing dries quickly in a heated environment so wait until your clothing is dried before going back out into the cold weather. Enjoy your runs and stay safe over the winter.
I hope by sharing my story, it would raise awareness and prevent my fellow runners from hypothermia.
Sources: Mayo Clinic, Running World, MedlinePlus Medical Encyclopaedias, and e-Medicine Health
 - Linda Harwood
---
1 comment
---
---